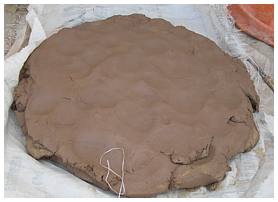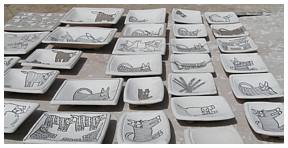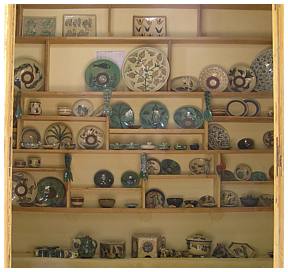 Tunis is a small village in Fayoum on the border of the Lake Qarun. Educated by a Swiss potter who started a pottery school for children in 1970, several local potters have started pottery schools and sales points. They make lovely pottery, mostly decorated with something that looks like naive art, depicting the things they see in daily life, like donkeys, goats, ducks and agricultural products.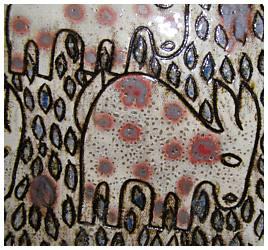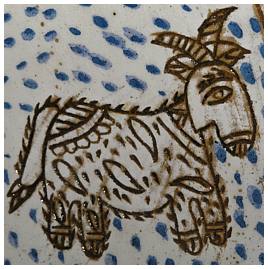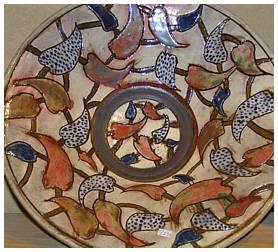 Your cooking will get extra cachet, if you serve it in these dishes:

Tunis is inhabited by expats, Egyptian and foreign artists, Cairo intellectuals and rural population and has the looks of a Mediterranean resort: light colored domes, olive groves, sun flowers and bougainvillea everywhere. Still, it hardly ever rains in this place and the area around is dusty and dry, creating strange contradictions between the bright houses and colored flowers and the grey-brown sand around.
The road past Tunis continues along the lake Qarun, and at the end you can either go to the South to see the protected area of Wadi Rayan, or to the North and back East on the other side of the lake. On this side, there is only desert sand and some out-of-space looking mushroom like desert mountains. The road ends after 20 kilometers or so. It is said that it will be connected to Cairo one day in future, when the planned 3,000 bed hotel on that side of the lake will be finished. Currently, the building has not even started yet and all who lives there are a few goat herd families on the verge of starvation. In the picture underneath in the middle, the desert on the other side of the lake is faintly visible.
Because of the high concentration of dust in the air, it is almost impossible to see the mountain chain behind the lake, the Gebel Qatrani formation. In this neighborhood very old fossils are found, just like in Wadi el Hitan. But where in Wadi el Hitan the majority of fossils have a sea related origin, here they have belonged to land animals like elephants and primates.